News & Updates
Win a Free Panel from People's Community Solar!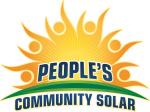 Construction is set to begin in early April on the People's Community Solar array. Members who have purchased two panels by April 30 will be entered into a drawing for a free panel. If you are interested in harnessing the sun's power call (800) 214-2694 today! Click here for information and answers to frequently asked questions.
Joe Book & Art Friedrich Re-elected To Board

Joe Book (Dist 1) and Art Friedrich (Dist 6) were both re-elected to the PEC Board of Directors at the 79th Annual Meeting on Saturday, April 16 at the Rochester International Event Center.
April Newsletter

Click here to access the April Highline Newsletter. The online spot your number for April is 4250.
Load Control
Click on the appropriate program to view current load control information for Residential Load Control and Commercial-Industrial-Agricultural Load Control.
Operation Round Up
The next round of Operation Round Up grant applications are due by 4:00 p.m. on Monday, June 20, 2016, to be considered for second quarter 2016 grant money. For more details and an application, click here.
Can't find what you're looking for or have a question, contact us.